Sign up
now for as little as $14.00. This kind of creative, artistic content is hard to find. Support us and our models' efforts to bring you mind- blowing visual art and beauty.
Photographs are available in multiple sizes, up to 1920 pixels wide. You can choose the size that looks best on your screen.
Clear, crisp videos are available in WMV, MP4, FLV and OGG formats, and can be downloaded or streamed at sizes up to 1280x720.
---
Watch a sample video at 640x360 pixels.
(One minute twenty seconds long, twelve megabytes)
If you prefer, you can download the video using "Save as..." with these links:
MP4
FLV
WMV
OGG
---
What you will find inside:
Sword-wielding warrior women, buxom barbarian babes, and spear-slinging sirens.
All exclusive content you can't find anywhere else.
Behind-the-scenes footage and photos.
Unique costumes, props, and backdrops made specially for this site.
Bonus content showing my models in bodypaint and in other types of shoots that I do when I want a little variety.
Plus, you can rate the photosets - your feedback helps me improve the site and deliver the content you enjoy.
What you won't find inside:
There's no hardcore porn. But there's lots of good, clean, wholesome nudity.
No annoying pop-ups or banner advertisements.
You won't get spammed or billed for anything you did not request.
You won't find a whole lot of pictures of girls in halloween costumes posing in someone's basement, like you find on some other websites.
Here is a random sampling of some recent updates:
Two sexy priestesses in their temple prepare for their solemn ceremonies. Models Ludella and Nyxon are wearing chainmail stoles that I made.
A prisoner in the dungeon, stripped and manacled, awaits her fate. The luscious Hannah Perez is featured in this set of 55 breath-taking photos. She's wearing a loincloth I made from aluminum plates.
The Guardian of the Plains rides her faithful steed across the grasslands, ready to strike with her mighty spear any who threaten the realm. I created the outfit using aluminum chainmail.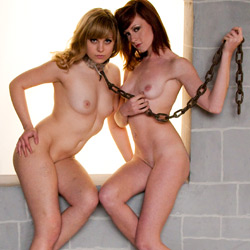 Two lovely nude ladies, one captor, one captive. They sit at a window in the castle wall, gazing at the landscape and at each other.
A beautiful princess is chained to a column in a dungeon. She awaits her liberator and dreams of the reward she will give him. Fifty-eight photos in this set.
A gorgeous blonde guards an archway with her razor-sharp scimitar. Do you dare try to pass? The outfit, sword, and backdrop are all my handiwork.
Lexi poses in a scale mail bikini, armed with a halberd. Both the armor and weapon are my creations. More than 70 photos.
Supermodel Hollis is practicing her swordsmanship with a weapon I made. She's wearing one of my chainmail-based outfits (though the outfit does not stay on for long).
Elven model Theresa frolics in front of the skull icon. Seventy-seven awesome photos.
Don't put it off. Join today!
Music by Audionautix