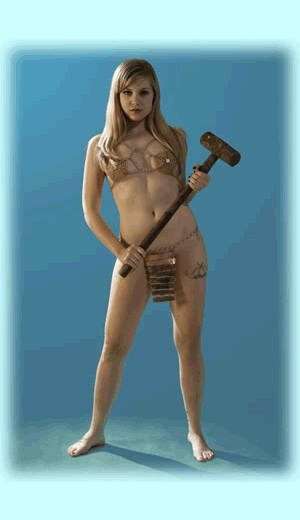 Mythic Women News in 2018:
October 9th: Up in the dark reaches of my studio's loft a long-haired, curvy cutie is lurking topless. You need to see this!
July 22nd: A sultry barbarian babe wields a sword that is as curvy and exotic as she is. Join today and take a look.
May 14th: Glitter makes everything prettier! In the latest update, I've got a very pretty woman sprinkling glitter on her nude body.
February 23rd: I've got a lovely young woman locked in a cage that is suspended from the ceiling of my studio in today's update. Watch as she tries to escape.
January 23rd: A pale, red-headed, sword-wielding beauty is featured in today's update. She carries a fencing foil, and is shown in (and out of) fencing gear.
December 14th: A long-legged dungeon-dwelling wench wielding a blazing torch explores an underground vault in today's photoset. She wears a chainmail loincloth that I made, for a while at least, before ending up nude.
October 16th: Ivy Lee returns in an awesomely artistic nude shoot.
September 5th: I finally got around to uploading a new video today. It's a nice one, featuring a beautiful, long-haired, 18 year old blonde.
August 17th: A new model is featured in today's upload. I hired Helyn to model some of my chainmail for advertising purposes, but she looked so hot that I decided to upload some photos here for my subscribers to enjoy.
July 12th: I uploaded some photos from a recent artist showcase that I participated in. I brought some of my models and had them wear my chainmail outfits, much to the delight of the crowd.
June 11th: Busty, long-haired brunette Jessi June is guarding a castle wall in today's photoset. I've got her in a chainmail and rubber outfit, but she doesn't wear it for long.
April 12th: A red-headed elf maiden frolics in the forest in today's update. Carrying her trusty spear, she is ready for anything. She's not wearing much; just a metal loincloth. But she's out for an adventure in the woods.
February 28th: Today's update features a redheaded alchemist, at work in her laboratory. She is pouring a mysterious blue sticky liquid on her body. Fans of the wet-and-messy genre will like this one.
February 15th: I added a new movie review to the Fun Stuff page today.
January 22nd: Two nudes frolic on a staircase in my studio in today's update. I think you'll really enjoy this one.
December 30th: I wrapped a nude woman in plastic wrap; you get to see her cut herself out with scissors in today's update.
December 8th: I uploaded a set of photos of a new model wearing my chainmail (and also not wearing it). She is thin but very buxom. My chainmail didn't fit her very well, so I had to have her take it off halfway through the shoot. I don't think you'll mind.
November 19th: Today's update features 90 photos of a new model named Tiffany. She's chained to a bed and gazing at the camera with smoldering eyes. Come inside and check her out!
October 18th: In honor of Halloween, I've uploaded a semi-gothic nude shoot.
September 30th: Hannah Perez makes another visit to my studio, and the result is a delightful nude set.
September 19th: My hosting company will be doing some routine maintenance in the early morning hours of September 23rd. There may be some brief service interruptions.
September 9th: I uploaded another "sledge" video today. This one features Rebel, demolishing a TV set with a sledgehammer.
August 15th: A buxom, raven-haired beauty is perched on my studio swing in today's update.
July 26th: A winsome slave girl is chained to the auction block in this week's update. Helpless and nude, she awaits her fate. Won't you come inside and bid on her?
July 20th: I've added a new model today. She poses in and out of one of my chainmail creations.
June 30th: Today's update is especially for fans of wet-and-messy stuff. It's a behind-the-scenes video of a nude model covering herself with a sticky red liquid.
June 22nd: I uploaded a wonderful set of photos featuring Kaya posing in a "nest" suspended from the ceiling of my studio. She is snuggling, nude, in a warm fuzzy aerie. You have to see it!
May 26th: Ever since I was a kid and saw the James Bond movie Goldfinger, I've always wanted to paint a naked woman from head to toe with gold paint. I finally made it happen. Join today and check out the results.
May 18th: Ivy Lee again graces my website with her awesome body. She is a queen on her throne, wearing little more than a copper chainmail sash.
April 22nd: I just posted a huge photoset featuring a beautiful model, Mariana, in chainmail and wielding a sword. The chainmail comes off though, revealing even more of her beauty.
March 26th: Noted fetish model Miss CJ joins my collection of vixens in today's update. I've got her chained to a pipe.
March 12th: The Fun Stuff page has a new review of the movie "Barbarian Queen II".
March 7th: It's Rain's first time in my studio and I introduce her to my work by having her pour a viscous red liquid all over her nude body. I only occasionally do wet-and-messy shoots, but this one is a fine example of the genre. She enjoyed doing it, I think you'll enjoy seeing the results.
February 18th: Sexy Jessi June is draped with chainmail and seated on a throne in today's photoset.
January 27th: Another new model this time. A ravishing, raven-haired beauty. I didn't have time to make a chainmail outfit for her, so she's all nude... I figured no one will complain.
January 12th: There are two nice chests on view in my latest photoshoot. One is an old wooden pirate-type treasure chest, and the other belongs to a new model who is appearing for the first time on my site. Join up and take a look.
December 26th: I uploaded a couple of bonus photos of a sexy model just goofing off behind the scenes at one of my shoots.
December 16th: My first shower shoot! I got the lovely Kaya naked and into the shower for a soaking wet photoshoot. Plenty of slick curves and glistening skin. This alone is worth the price of admission. Join today!
November 29th: Kylie Kohl is back, and she is wearing a barely-there silicone rubber outfit that I made just for her.
November 18th: The video I uploaded today features two gorgeous busty models, Ludella and Nyxon. After a brief topless interview, I bring out the sledgehammers and they start smashing stuff. I seem to be drawn to naked women performing destructive acts; if you like this sort of thing too, there are several videos inside that you will enjoy. Join today!
October 24th: Yet another new model this week. I photographed this lovely twenty-year-old rolling around naked in glitter, something I've always wanted to do in a photoshoot. We had fun shooting it, and I know you'll enjoy viewing the results.
October 10th: A new model in a new setting are featured in today's upload. She's tanned and sexy, with piercing eyes and a curvy body. She looks great topless, wearing only a bit of my chainmail around her hips.
September 22nd: With today's upload I now have more than 5000 photos in over 100 photosets! The shapely Lane Elizabeth is a visitor from another dimension in this set, and she wears just a chainmail loincloth.
August 31st: Another new model joins my collection today, the fiftieth so far. I've got Rebel in manacles, chained to a structure that I built.
August 10th: I uploaded a kickass video of Hannah Perez smashing a television set with a sledgehammer.
July 25th: Instead of a fearsome sword or massive war hammer, the model in today's upload is wielding a mighty pipe wrench. I decided to do something a little different for my shoot with Ivy Lee. I have her in (and out of) a pair of shorts and a ripped up shirt as she toils in a dusty corner of my studio.
July 11th: The sweet and lovely Hannah Perez returns to my studio for a fun bondage shoot. I have her in a chainmail and polyurethane loincloth that I made, and she's bound with chains and manacles. Oh, and congratulations to me - this my 100th photoset on MythicWomen!
June 24th: Things have been a bit slow around here due to my laptop crashing. But today I have uploaded a great set of photos with glamour model Jessi June. She is new to Mythic Women, and she is posing on a new backdrop I just completed. I had no time to make a chainmail outfit, so this one's all nude.
New content continuously added!
More than 135 sets of photos!
Featuring 61 models!

Explore the realm of photographer/artisan ... beautiful women... handcrafted outfits... exotic scenes...
Professional models, amateurs, and even first-timers make up my ever-growing collection of heroines, damsels, and warrior women. I photograph them in unusual chainmail costumes that I make myself. And I also photograph them without the costumes! Stimulate your imagination. Come and explore the wondrous world of Mythic Women!




















This is just a small sample of the
treasures you'll find inside.

Photos, videos, and other delights await you inside.
Peek behind the curtain and see what
my photoshoots are really like.

Try it for just a month. No long term obligation.
Your support funds my creative endeavors.
Plus you'll be indirectly supporting my models.