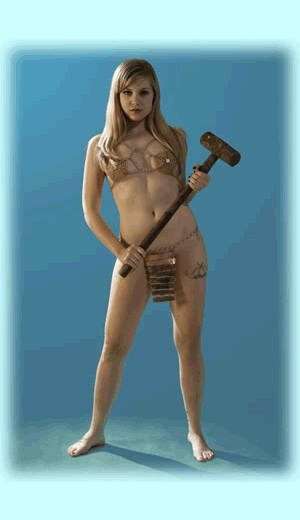 Mythic Women News in 2013:
May 18th: Hannah returns, in chains this time.
May 15th: New video this week, featuring a nude model and a sledgehammer.
May 12th: Fabulous outdoor shoot this week, featuring a lovely girl on horseback, wielding a mighty spear.
May 4th: Daniella is shackled up in this week's update.
April 20th: I've got a very sexy new model in a new outfit that I made, using a new backdrop that I built.
April 13th: This week's photoset is called "Lurking Assassin"
April 6th: A new model this week in a new outfit.
March 30th: No chainmail this week. Our lovely 18-year-old model is nude in today's photoshoot.
March 24th: Two beautiful models in this week's update.
March 13th: Due to server maintenance, the website may be down for an hour or so today.
March 9th: Another week, another new model, as well as a new backdrop.
March 2nd: A new model graces my pages this week, along with a double-head axe that I made.
February 23rd: The backdrop on this week's upload is a little different from my usual ones, and the outfit a bit more exotic. The model is beautiful, as always.
February 16th: "Guardian of the Skull" is the name of this week's update. It features a bit of my airbrush art and a noted fetish model.
February 9th: This week marks the return of two lovely art models who engage in some pretty cool acrobatics.
February 2nd: I was digging through my files and found some old photos of a nude fetish model that I shot.
January 26th: This week's photoset features two hot fetish models at play with my props.
January 18th: I added a great set of photos today with a very expressive glamor model.
January 17th: Added a new video today.
January 12th: Delicious Daffnie returns!
January 5th: Two new models this week: one is a lovely 18-year-old woman, the other is a lizard of uncertain age. They appear in a photoset I call "The Damsel and her Dragon."
January 2nd: New Year, new models, new photosets, new videos. Join the adventure!
December 15th: Two new and gorgeous models in this week's update. Brings the total to 30.
December 7th: This week: the return of a great art model.
November 30th: A new model, Jessica, features in this week's update.
November 24th: I added more than 80 photos of Kylie today. That brings my total to over two thousand!
November 17th: Lydia looks a little like Cleopatra in her latest photoset.
November 10th: Today's photoset portrays two new models as a barbarian queen and her slave.
November 8th: Uploading a new video today.
November 3rd: I put up a great outdoor photo set today.
October 26th: I just finished uploading this week's update. Enjoy the weekend!
October 20th: Another brand new model today. She has an awesome dancer's body, and wild hair.
New content continuously added!

Explore the realm of photographer/artisan ... beautiful women... handcrafted outfits... exotic scenes...
Professional models, fresh-faced amateurs, and even first-timers make up my ever-growing collection of heroines, damsels, and warrior women. I photograph them in unusual chainmail costumes that I make myself. And I also photograph them without the costumes!